Countless macroscopic materials reversibly contract and then swell (or vice versa) as the concentration of a chemical agent increases and then decreases:
These materials can obviously do mechanical work. Here are two illustrations of how, by concentrating and deconcentrating the chemical agent (hydrogen ions), one can cyclically extract work from pH-sensitive macroscopic polymers able to lift weights:
Figure 4 here:
https://www.ncbi.nlm.nih.gov/pmc/articles/PMC1367611/pdf/biophysj00645-0017.pdf
The upper picture here:
Concentrating and then deconcentrating a chemical agent, just like compressing and then expanding a gas, if performed quasistatically and isothermally, involves zero net work (the work lost in concentrating is compensated by the work gained in deconcentrating). For instance, one can imagine that the polymer is placed in the solution compartment here (we assume that the membrane is permeable to water but impermeable to the solute, the hydrogen ions):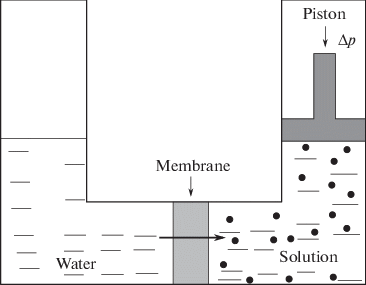 Clearly, lifting the weight is the net work done by the isothermal cycle, in obvious violation of the second law of thermodynamics.